Lange Containment Systems Inc., commonly known as LCSI, is a premier fabricator and installer of geomembranes and other geosynthetic liners. Based out of Denver, Colorado, USA, this Global Cover and Liner Inc.® company produces only the highest quality containment products and prides itself on the service and personalization that sets it apart from its competitors.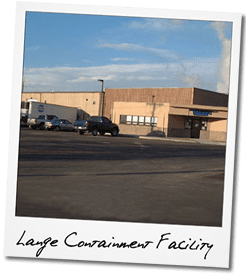 LCSI has fabricated and installed more than 145,000,000 square feet of liner systems all over the world. We have completed work throughout the USA, South America, Central America, Asia, and even Antarctica. Our management team has over 100 years of combined experience in all facets of the business in all corners of the globe.
At LCSI, safety is our number one priority—both for our staff and our customers. Our installers are certified by the International Association of Geosynthetic Installers (IAGI). We undergo regular training to ensure that only safe practices are used in the fabrication shop and in the field, helping to keep you, your business, and your containment investment safe.
LCSI is committed to improving the environment through its own internal initiatives. Our key environmental objectives include:
Conducting our business in an environmentally responsible manner
Minimizing environmental risks by employing safe operating procedures
Reducing the amount of waste generated in the office, as well as in the field
President
ryan.t.heese@langecontainment.com
Ryan majored in Business Administration at the University of Northern Iowa and has been working at LCS for the last 16 years. Ryan is responsible for day-to-day operations and project management; his role involves managing all aspects of geomembrane fabrication, purchasing, and installation.
Operations/Marketing
jake.t.wood@langecontainment.com
Jake has been with LCS for 10 years. He holds a Business Administration degree from Avila University and is involved with marketing, project estimating, installation, and fabrication.
Director of Marketing
rodney.b.carriker@langecontainment.com
Rodney has been a marketing and sales professional for over twenty years. Previous direct sales experience includes Xerox, among others, but he is now dedicated to the geomembrane industry.
Operations/Production
Trevor@langecontainmentllc.com
Trevor is the newest member of the LCS team. He has an extensive background in computer technology & drafting. Trevor assists the team with estimating, autocad take offs, production management & installation
Controller
Cali has been the controller at Lange since September 2021.  She is a Certified Public Accountant who has a diverse accounting background. She assists the team with purchasing, estimating, and general business operations
Strategic Advisor
Throughout his 30+ year career, Stuart has held numerous positions and has been involved in all facets of the liner fabrication and installation industry. He holds a degree from the University of Northern Colorado and, for 22 years, was the president of LCSI, leading the team to success. Stuart now serves as the company's strategic advisor.
Construction Manager/Installation Technician
gary.cohoe@langecontainment.com
Gary has been with LCSI since its inception and has been our construction manager for the last 14 years. As a seasoned liner installation technician, he plays an active role in installing LCSI's liners worldwide.
PARTNERS AND ASSOCIATION MEMBERSHIPS
LCSI is known for its superior containment liner solutions. That reputation has been earned through active involvement in associations that keep us apprised of the latest industry advancements and by partnering with other companies/associations that share the same commitment to a job well done.